All the world's eyes have been on Hurricane Harvey for many days now as Texas and Louisiana are flooding and record rainfalls are dumping enormous water and weight on the East Texas and Louisiana lands and watersheds.
But the drama the world is not yet seeing is one played out in a vision and subsequent visions I received in 2012 and following years.
On August 17, I finally felt the release to fully disclose what I saw in the initial vision, in an article here:
https://thechurchofacts.com/marshallswingmusic/2017/08/17/20172024-eclipses-constellationplanetary-alignments-2012-vision/
Of course on August 17 no one was even thinking about Harvey and I sure was not either.
We watched the 2017 Eclipse from a country winery named Blue Sky, in Makanda, Illinois.  Our location was the point of longest eclipse duration but who is counting the seconds when you watch such a thing?  The really interesting part of watching the eclipse, for me, was not visually seeing it but in watching the people's reaction to it.  Here is the finger of YHVH God pushing the moon in front of the sun for a few, brief moments, and people are yelling and screaming as if they hit the lottery.  But the reality is almost all those same people who were cheering and jumping up and down do not give YHVH God nor His Son the time of day in their lives.  Most of them do not believe He exists and most of them have never studied the scriptures and the evidence to prove to themselves one way or the other that He is real and that the Scriptures are real.  Most have never studied the vast evidence proving Noah's Flood nor have they studied the vast evidence proving Creation vs. the Evolution Theory fraud.  Most people simply do not care at all and sadly enough most people in Christian churches are not much interested in examining those Scriptures and seeking Him fully, either.
But folks sure did cheer wildly at the moon as it pushed in front of the sun on a beautiful August afternoon…
So. We left Makanda, Illinois which is also the intersection of the 2017 and 2024 eclipses and took 50% longer to get home due to the tens of thousands of cars clogging the highways.
And you know, I really thought things would die down until the run-up to the 9/23/2017 constallation/planetary alignment.
Then, almost out of nowhere, literally, Harvey crosses the Southern Caribbean, clips the Yucatan peninsula, then heads North to threaten Texas but looked as if it would come ashore as a Category 1 hurricane, perhaps weaker.
The Touch of the Master's Hand?
But amazingly, before it comes ashore, Harvey strengthens to a category 4, slams areas Southwest of Houston then stalls and inundates Houston with record rainfall and days later is still dropping massive rainfall.  Now Harvey has moved back out to the Gulf and the projected path is to the North, Northeast.
Could Harvey strengthen again?
The Touch of the Master's Hand?
This morning, August 28, I noticed an article on USAToday that showed the projected path of Harvey over the next several days:
https://www.usatoday.com/story/weather/2017/08/28/where-harvey-now-where-go-next/607419001/
This morning, I saw the map in the article and wondered to myself if Harvey might just wander right up to Southern Illinois and paint the Revelation 12 map?
I sent this morning's NOAA map, along with my own musings, to a media friend: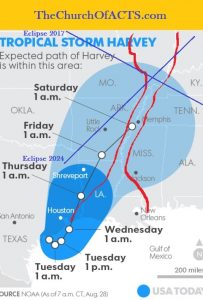 Shortly afterwards, this evening, I happened onto the same USAToday article and noticed the NOAA has updated their projections for Harvey and included Southern Illinois right at about Cairo, know as "Little Egypt".  And, of course, I made updates to the new projection map: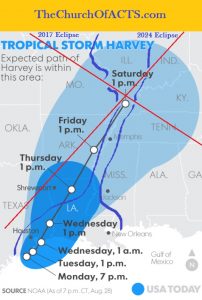 As if on cue by the Master's Hand, Harvey appears to be painting the Revelation 12 New Madrid Earthquake and Flood Map of the vision I was given in 2012.
Is Harvey just a white rabbit or is Harvey real?
Ask the people in Houston…
You know, I don't know how much confirmation and coincidence people need to give some first and second thoughts to the 2012 vision I posted but this Harvey storm is certainly a confirmation for me that YHVH God is trying to reach people and convince them to keep His Commandments like His Son did.
YHVH's Son said the Greatest Commandment is loving his Father.  Matthew 22:36-37
YHVH's Son said the way we know he loved his Father was that he kept his Father's Commandments.  John 15:10
Why does YHVH God our Father have to send visions, and storms, and rain down fire and brimstone just to get people to keep His Commandments?
Shalom!
https://www.facebook.com/marshall.swing.9
PS…
Matthew 16:1-4  Then the Pharisees and Sadducees came, and testing Him asked that He would show them a sign from heaven.
2 He answered and said to them:
"When it is evening you say, 'It will be fair weather, for the sky is red';
3 and in the morning, 'It will be foul weather today, for the sky is red and threatening.'
Hypocrites! You know how to discern the face of the sky, but you cannot discern the signs of the times.
4 A wicked and adulterous generation seeks after a sign, and no sign shall be given to it except the sign of the prophet Jonah."
And He left them and departed.
Pss…
https://thechurchofacts.com/marshallswingmusic/2017/08/17/20172024-eclipses-constellationplanetary-alignments-2012-vision/
https://thechurchofacts.com/marshallswingmusic/2017/08/29/hurricane-harvey-confirmation-revelation-12-new-madrid-earthquake-april-2019/
https://thechurchofacts.com/marshallswingmusic/2017/08/30/hurricane-harvey-revelation-12-second-confirmation/
https://thechurchofacts.com/marshallswingmusic/2017/09/04/hurricane-harvey-revelation-12-confirmation-3/