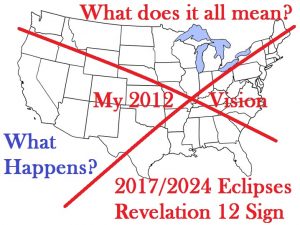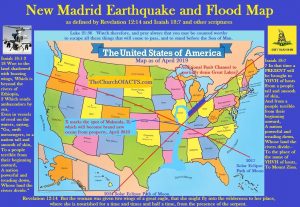 What follows is a recap of a vision I saw in 2012 that explains the great flood in Revelation 12, the solar eclipses of 2017/2024, and the constellation/planetary alignment of September 23, 2017.
This recap of the earthquake destruction is the first of several distinct visions I have seen regarding Revelation 12 and all the associated books, chapters, and prophecies in the Bible relating to the end of this Millennium and the next.  Most people are interested in the book of the Revelation to John because they know what is described at the end of the 6th Millennium is the time frame we all are living in or very close to right now.  All the signs of the times are very apparent and none more apparent than Judah's partial return to Israel and most know it is but one generation from their entrance into Israel when the so-called last seven years of Daniel's prophecy takes place.
Who am I?  Nobody really.  I am just someone who deeply regrets all the sins of his life, repented of them, and chose to live by the faith God's Son lived by and keeping God's Commandments as it is written we are to be the image of God's Son.  It is a simple life.
Minding my own business and staying out of the public eye was something I cherished for myself for many, many years.  I certainly have my long list of reasons loving anonymity.  And I assure you, in the year 2012, staying out of the public eye was very much on my mind and high on my list of desires, however, certain things began to happen to me and I began to see certain things and ultimately I could not remain silent.  Jonah wanted anonymity desperately and so did I.  Jonah had his reasons and I certainly had my reasons but for neither me nor my good brother Jonah was staying out of the public eye acceptable to God.  No, I did not get spit up on the beach all whitewashed from spending 3 days and nights in the belly of a huge whale as the digestive juices took the color out of my clothes and the suntan from my skin and turned my beard white.  That exact scenario did not happen to me I am relieved to say.
What did happen to me was a few years prior when I stumbled upon a private group of precious metals and other natural resources investors who examined dozens even hundreds of mining companies to ascertain their true values and future potentials and determine whether or not those companies were worthy candidates to examine closely in order to determine when to invest in them, or use the knowledge gained to also make other investments such as gold and silver ETFs etc…
That was about 2006-2007 and I stumbled into this group because I was highly interested in uranium investing and an internet search returned a couple of group posts by a brilliant analyst living in the Philippines, about a couple of uranium companies I was invested in, and I wanted to know more, much more.  The group was led by an equally brilliant analyst who lived in California and together they had developed accurate analysis of natural resource companies down to a science and were making staggering returns on their investments.  Also, in this group was an analyst from Utah, who more than any other wrote the case basis that caused me to turn to silver and gold investing and most of my friends know his writings to this day.
Me?  I knew virtually nothing compared to those guys but one thing I had on my hands was lots of time, old math and computer skills, and the interest in reading the dull, dry, boring assays and drilling reports and then watching those guys do the calculations to arrive at investment decision points.  There was a constant drumbeat in the group that gold and silver were one day soon going to explode far further than they had in the previous years to really serious highs and they wrote articles on the foundational basis for those beliefs and eventually I got hooked via carefully examining their conclusions.
I began to notice some missing explanations in the volatility of gold and silver prices but I found two industry regarded experts who reported on CFTC Commitment of Traders reports (COT) which is a weekly numbers recap on open interest commodity trading.  As I carefully examined their writings over a number of years I found their explanations lacking in a direct correlation to the COT numbers.  I also found their ability to predict price direction to be, at best,  vaguely existent.  So, I determined to live with those numbers, eat them, sleep with them, and look at them left, right, up, down, forwards, and backwards in a variety of ways I had learned to examine data in databases, spreadsheets, and graphs.  All that resulted in my declaring in January of 2012, to a very well know industry reporter, that commercial banks were working together to suppress gold and silver in the "not so free" market, that I knew exactly how they did it, and that silver would fall from roughly $38-42 all the way down to $15.00  I was ridiculed immediately and my Spring 2012 article at SilverDoctors.com had a record for most comments ever.  I persisted on my crash calls for a period of 2.5 years until the absolutely unthinkable happened around November 2014.  I was constantly ridiculed for years but no one to this day can argue the undeniable results:
http://www.silverdoctors.com/gold/gold-news/silver-analyst-who-predicted-silvers-crash-to-15-three-years-ago-says-massive-rally-coming/
In just 2.5 years, I had become somewhat famous and infamous and I received emails and Facebook friend requests from all around the world from people seeking to be friends and some just seeking price direction for their investments in gold/silver.  Since that time I have made a number of smaller price direction predictions and economic predictions that manifested.  I am also infamous for predicting a global economic crash in Fall 2015 that did not manifest but many economists say could happen any day now…  I have come to believe it was intentionally delayed for an unknown reason.  I never saw a vision of when the global economic crash would but I could read the book of Revelation and see all the hints that it would happen and I knew the 3.5 year period in which it should happen.  I just decided it would make a nice scenario if it happened at the start of that 3.5 years and a certain globalist magazine seemed to be hinting very strongly the time was at hand.  Did I expose them and they delayed?  You decide!
Why tell these stories?  It is merely the basis of me having a strong past record of being able to see future events.
But something else happened to me in 2012 that I have never talked about much.  I have made scant mention of it in Facebook post and comments but never a remotely comprehensive accounting like this one.
For months now, even a couple of years, bible prophecy enthusiasts, some who call themselves watchers, have been speculating as to what the 2017/2024 eclipses mean which are distributed across the United States like a big X.  That X intersection just happens to be in Makanda Illinois a couple of hours from where I live.  Some of these watchers have made incredible videos, a few of which I have watched.  Additionally, these same watchers have been speculating as to what the September 23, 2017 planetary/constellation alignment is all about and whether Christians might be raptured on that date which just happens to be 726 days since the last blood moon of 2015, September 28, 2015.  And to make matters more confusing the Strong's Bible concordance bearing that number 726 is for the Greek word harpazo which most agree means rapture or catching away.
Please keep in mind that when I received this vision in 2012 I had no idea about either 2017/2024 eclipses or the 9/23/2015 constellation/planetary alignments.  But, once I saw articles documenting those events I knew exactly they related to the vision(s).
I can tell all who read this article, with virtual total confidence, there will be no rapture on 9/23/2017.  The planetary/constellation alignment is indeed a biblical sign but it is not the date of the rapture billions of people are hoping it is.  The sign just gets us in the general ballpark in the same way the blood moons of 2014/2015 got us in the general ballpark to figure out Daniel's 70th Week.  There are several separate raptures discussed in the Bible but most people do not see the separation nor the significance of who they are for and what they mean.  Correct context is priceless in deciphering The Scriptures in order to understand what is coming. And even then, just as Luke 21:36 says, you must be found worthy to escape what is coming.
I can see the 2019 New Madrid Fault Earthquake and destruction today just as clear as I saw it in 2012…  The images have been with me like a nightmare for over 5 years now.  I do not get any comfort from those images, at all.
A magnitude 9 – 10+ Richter scale earthquake happens somewhere South of Southern Illinois.
Not only is the New Madrid Fault intensely activated but adjacent faults and plates are as well.
Every bridge on the Mississippi River from the Gulf of Mexico to the tip of Southern Illinois comes crashing down never to be rebuilt again.
Every bridge on the Mississippi River from the tip of Southern Illinois to far past St. Louis comes crashing down never to be rebuilt again.
Every bridge on the Illinois River from Hardin Illinois to well past Peoria, IL comes crashing down never to be rebuilt again.
Every bridge on the Ohio River from the Southern tip of Illinois to about Evansville, IN or so comes crashing down never to be rebuilt again.
Every bridge on the Wabash River from the Ohio River to Covington, IN or so comes crashing down never to be rebuilt again.
The land from North of Peoria, IL to around Covington, IN collapses and all roads and bridges leading to Southern Illinois are destroyed.
The Mississippi River basin from the Gulf of Mexico up and through all the rivers I listed collapse several hundred feet and the resulting tsunami from the plate collapse in the Louisiana Delta/Gulf of Mexico region sends Gulf of Mexico water all the way up what was a short time ago the Mississippi river, Ohio River, Illinois River, and Wabash River and the collapsed land area from Covington, IN to the Peoria, IL area.
And thus, The Wilderness of Revelation 12 is formed.
Revelation 12:14-16  But the woman was given two wings of a great eagle, that she might fly into the wilderness to her place, where she is nourished for a time and times and half a time, from the presence of the serpent. 15 So the serpent spewed water out of his mouth like a flood after the woman, that he might cause her to be carried away by the flood. 16 But the earth helped the woman, and the earth opened its mouth and swallowed up the flood which the dragon had spewed out of his mouth.
Every time, in the last 5+ years, I read those verses I see those and more images played before me as a massive geologic event takes place.  When it happens, many scientists will say to the people we were long overdue for such a natural catastrophe because they see just such catastrophes and devastation in the geologic record.
Revelation 12:6  Then the woman fled into the wilderness, where she has a place prepared by God, that they should feed her there one thousand two hundred and sixty days.
All you have to do is a single internet search on "New Madrid flood map" and you will see scores of maps/depictions of conceptions as to what the United States will look like after what most geologists says is the future, assured, New Madrid earthquake.  All their pictures are based on what they know for a fact is the underlying geology of the Mississippi River area.  It is a house built on sand, literally.  I have several pictures displayed below but please do your own due diligence with some internet searches on what a multitude of others are saying as well as the geology they have known about for a long time.
It has been imprinted on me that the final 1260 of days plus of Daniel's 70th Week begins in April 2019.  I have far more information, confirmation, and witness than this specific vision account reveals but that is for a later time.  Many will scoff and say then that means we are already in that 70th Week but this vision testimony is not meant to be an analysis of how Daniel's 70th Week is laid out in time.  I'll do that at a later date.
I have crossed a great many of those bridges over those rivers in my lifetime.  The bridges going into St. Louis I have crossed dozens and hundreds of times.  Every time I cross one of those bridges now I see the destruction as it is taking place in the future.
At various times in the vision(s), I am standing or hovering at all the various bridges.  I can see the cars on them as they crash into the rivers.  I can see the horror on the people's faces, on the faces of truckers, families vacationing, many people going about their everyday activities where they are required to cross those bridges whether for work or pleasure.
I can see and almost smell the rust and paint on the bridges, I am so close.
I can hear the steel twisting and then crumpling as if soft like spaghetti.
In a few seconds, the bridges have all collapsed and almost simultaneously the Mississippi River Basin also collapses.  No one survives these collapses.
Within minutes the Gulf Waters rush in powered by a great Gulf of Mexico tsunami.
The distance as the crow flies from New Orleans to St Louis is 600 miles.  Tsunamis can travel at 500 mph in open water, perhaps even faster to fill a void.
Everything happens very quickly and there are no rescues, not even rescue attempts.  No one is prepared for such a devastative regional and national event.  The great earthquake is felt throughout the entire United States and parts of Canada and Mexico.  It takes quite some time before there is any visual reporting on national/international news because there no longer exists the ability to report in the affected cities.
In an earthquake of this scale the ground liquefies.
East St Louis collapses and then disappears beneath the waters never to be seen again as the flood waters go dozens of feet up the Interstate 64 hill.  The tops of that hill are roughly 600 feet above sea level.  Memphis suffers much the same fate as do all towns and cities up and down the Mississippi River Basin collapse area.  The collapse area is very wide, see pictures below.  New Orleans is collapsed and flooded.  I did not see Houston but that does not mean the collapse zone or flood zone does not extend there it just means I did not see everything or need to see everything.  Much of St Louis falls down flat but I do not know how far the flood goes.  I checked and there are areas of St Louis above 600 feet.  I did see the former Rams stadium flooded and what was left of the surrounding buildings flooded but did not know how deep the waters were.  If I had to guess the waters were 15-20 feet deep.  600 feet above sea level seems to be safe as long as you are not in the collapse zone.  For example, Forest Park in St. Louis has some parts with a 600 foot elevation and areas like that on high hills might be safe unless the building you are in collapses.
The Mississippi River bluffs of Southern Illinois and the vast plain Southern Illinois sits on are at about 600+ feet above sea level which protects it from the Great Flood of Revelation 12 as well as the whole delta area below the bluffs South of Makanda Illinois collapse deeply and will stop the majority of the thrust of the tsunami from rising over the Southern bluffs and covering Southern Illinois.
We read clearly the intent in Revelation 12 is to kill The Woman:
Revelation 12:15-16  So the serpent spewed water out of his mouth like a flood after the woman, that he might cause her to be carried away by the flood. 16 But the earth helped the woman, and the earth opened its mouth and swallowed up the flood which the dragon had spewed out of his mouth.
Is there a second, greater collapse before the flood waters rush by, due to a huge aftershock in the Cairo, Metropolis, Paducah areas of the Mississippi/Ohio River Basin areas that drops that area by a few hundred more feet that acts like a barrier to buffer the oncoming thrust of the tsunami and keep it from climbing over Southern Illinois?  I did not see that but it might be written right here:
Revelation 12:16  But the earth helped the woman, and the earth opened its mouth and swallowed up the flood which the dragon had spewed out of his mouth.
The United States is devastated as many cities are lost, tens perhaps hundreds of thousands die, most East/West travel infrastructure is lost, arteries that were once economic river traffic are lost, river ports are lost, gas and natural gas lines are ruptured, many types of utilities are destroyed, and the United States will never again recover.  Most of the economy in these areas is farm related and future harvests will have to be routed East and West by trucks rather than river barge traffic.  The New Orleans port is gone.
The cities of metro St. Louis, Memphis, New Orleans, and Baton Rouge have a minimum of 6.24 million people.  I did not see a number of how many people die.  How many are in the affected collapse zone?  10 million?  15 million?  If the collapse extends up a fault to the Northeast, Toledo might have a problem.  If the collapse extends to Lake Erie, then the United States is divided in half and Chicago is seriously isolated.  If the collapse extends to Lake Erie causing water to flow partially out Lake Erie and consequently the other Western Great Lakes, then all economic boat/barge activity on lakes Superior, Michigan, and Huron would grind to a halt because it does not take that much of a drop in water level to expose impassable rocks connecting the lakes.  Those passageways bring enormous amounts of food and goods to Chicago and many, many other lake cities and distribution channels, as well.  I did not see a collapse stretching from the Covington, IN area to Lake Erie but that does not mean it does not happen.  Obviously, there is some geologic basis for it but smarter guys than me can answer speculations on that possibility.
I repeat, I did not see how far North or Northeast the collapse extends.  I have wondered about Chicago and how they would be affected.
If you browse maps and geologic research on this subject you will find some people think the collapse could go as far as Lake Michigan and Lake Erie even beyond perhaps right out the St. Lawrence Seaway.  It is certainly plausible to rip through Indiana right up to Lake Erie or to Lake Michigan considering the geology and I put that former possibility on my map below but I assure you I did not see it.
One thing that is certain, no bridges will ever again be built over these waters.  If someone is going to cross these waters, it will be by boat.  The underlying geology will be considered impossible and far too risky to build on top of and too wide to even consider.
But, the far bigger picture is not this catastrophic, seemingly natural disaster.  The far bigger picture is the beginning of the 1260 days of what the prophecies say is the Great Tribulation of Daniel's 70th Week and what happens during those 1260 days and whether people will get themselves ready for it, or not.
To get ready for it, one has to do exactly what the scriptures instruct us to do:
Revelation 12:17  And the dragon was enraged with the woman, and he went to make war with the rest of her offspring, who keep the commandments of God and have the testimony of Jesus Christ.
Revelation 14:12  Here is the patience of the saints; here are those who keep the commandments of God and the faith of Jesus.
Revelation 22:14  Blessed are those who do His (God's) commandments, that they may have the right to the tree of life, and may enter through the gates into the city.
We know what the Commandments of God are and most of them are listed way back in Exodus through Deuteronomy and repeated throughout the Prophets and between the pages of Matthew through Revelation.
Revelation 12:14 says to "have the testimony of Jesus Christ".  How does one have that same testimony?
Revelation 14:12 says "keep… the faith of Jesus".  How does one keep the faith of Jesus?
How does one keep the faith of Jesus and have his testimony?
The Apostle Paul answers that question precisely:
Romans 8:29  For whom He foreknew, He also predestined to be conformed to the image of His Son, that He might be the firstborn among many brethren.
In other words, we are to conform our life and all we do 100% to the life God's Son lived as our perfect example in order to have the testimony of God's Son and to keep the faith of God's Son.
It does not say to merely have faith in God's Son but to keep the faith of God's Son.
The Apostle John said the same exact thing:
1 John 2:6  He who says he abides in Him ought himself also to walk just as He walked.
No one can be found worthy to escape what is coming unless they do those things as co clearly instructed.
Shalom,
Marshall Swing
https://www.facebook.com/marshall.swing.9
Ps…
https://thechurchofacts.com/marshallswingmusic/2017/08/17/20172024-eclipses-constellationplanetary-alignments-2012-vision/
https://thechurchofacts.com/marshallswingmusic/2017/08/29/hurricane-harvey-confirmation-revelation-12-new-madrid-earthquake-april-2019/
https://thechurchofacts.com/marshallswingmusic/2017/08/30/hurricane-harvey-revelation-12-second-confirmation/
https://thechurchofacts.com/marshallswingmusic/2017/09/04/hurricane-harvey-revelation-12-confirmation-3/
Other predictive maps and geology pictures I found on the internet: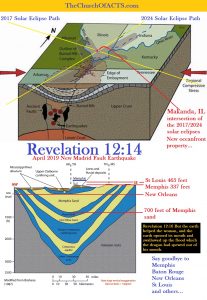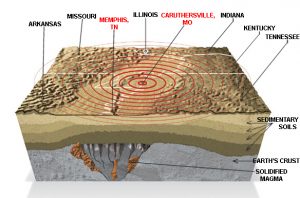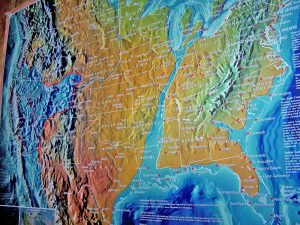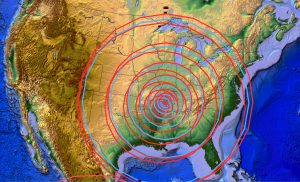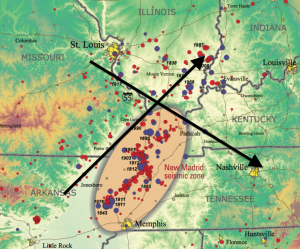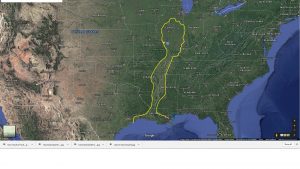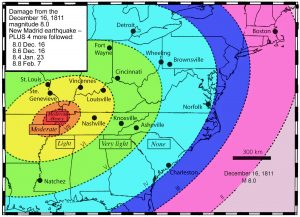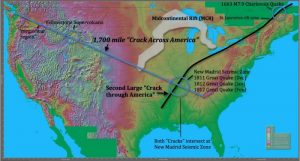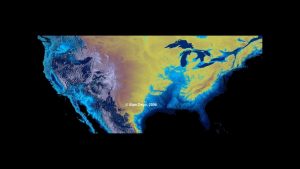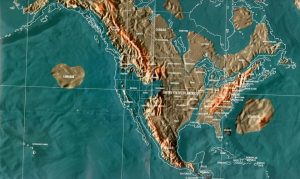 There are far many more maps and geologic diagrams of the concerned area out there by people far more expert in geology than me.
As well, there are a number of other people who have had visions related to this event and they are published particularly at TheMostImportantNews.com and associated websites.